The copycat wars continue!
Recently, the director of Taylor Swift's "Look What You Made Me Do" video, Joseph Kahn, responded to accusations that the video stole Beyoncé's "Formation" steez with complete denial.
And he poked a bit at the Beyhive, as well.
Why is everyone afraid of the Beyhive? What can they do? Pop out of your twitter screen and force you to wear Gucci?

— Joseph Kahn (@JosephKahn) September 1, 2017
Now, Kahn is adding spark to the fire. In his recent interview with the LA Times, Kahn discussed his latest Beyhive beef. Of the Beyhive swarm, he said, "I'm basically battle rapping on Twitter!"
"It's not 'Formation' at all. They try to say she's wearing a black crop top and Beyoncé wore a black crop top," Kahn said. "But they don't realize in 2015 in 'Bad Blood,' Taylor Swift was wearing a black crop top. I really do think, by the way, that Beyoncé copied 'Bad Blood.'"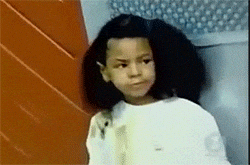 Bad blood, indeed! And the Beyhive is certainly not pleased:
Someone said Beyoncé copied Taylor Swift pic.twitter.com/nGnwcUWMSH

— Timo 🐝 (@timoazalea) September 7, 2017
Idk what Taylor is trying to serve with this era, but this isn't what we ordered. pic.twitter.com/OmxwiqLNMw

— Regina Phalange (@KingBeyonceStan) September 3, 2017
he really had the nerve to say beyoncé... copied.. taylor swift? pic.twitter.com/giXJMlXRp2

— bri | #DefendDACA (@apriIsdrew) September 7, 2017
Why in gods name would Beyonce ever need to copy Taylor Swift?? 😂

— 🕸️🎃SPOOKY™🎃🕸️ (@glitterxnebula) September 7, 2017
If you "really" think Beyoncé copied bad blood then you "really" must've fallen and smacked your little head on the pavement @JosephKahn pic.twitter.com/9Bf5NoTfUe— Juan Gaywood (@Juangaywood) September 7, 2017
Beyhive live footage, basically: